Entering Perth's Octagon Theatre on Friday night, I saw a warning: "contains cigarette smoke, open flames and use of firearms."
Well, that's the least I expect, I thought.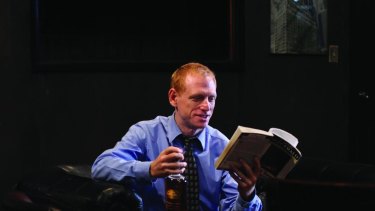 Perth Festival has brought New York Theatre Company Elevator Repair Service to Perth for the first time to perform critically acclaimed and wildly popular Gatz; to me, far and away the most exciting page in a jam-packed 2019 program.
This epic word-for-word enactment of F. Scott Fitzgerald's masterpiece The Great Gatsby has toured the world to sold-out houses for the past 13 years; in 2010, the New York Times hailed it "the most remarkable achievement in theatre not only of this year, but also of this decade".
Perth Festival artistic director Wendy Martin says it's the greatest piece of theatre she has ever seen and she has worked tirelessly to bring it to Australia for the second time, the first time having been to the Sydney Opera House.
Coming to Perth direct from another season in New York, the production opens with a worker in a shabby 1980s office casually picking up a copy of The Great Gatsby, and starting to read it aloud at his desk.
And he just can't put it down.